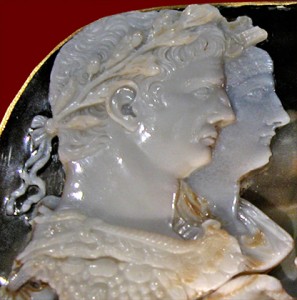 Polycrates of Ephesus gives us a description of John:
and there was also John, who rested upon the breast of the Lord, who became a priest who wore the plate, both martyr and teacher; he sleeps in Ephesus.

ετι δε και Ιωαννης, ο επι το στηθος του κυριου αναπεσων, ος εγενηθη ιυρευς το πεταλον πεφορεκως και μαρτυς και διδασκαλος, ουτος εν Εφεσω κεκοιμηται. (from Ben Smith's Text Excavation)
Many have taken το πεταλον as a reference to the "plate of pure gold" of the high priest's Tzitz, which in the Septuagint of Exodus 28:36 is translated into Greek as πέταλον (leaf) χρυσοῦν (of gold) καθαρὸν (pure).
And thou shalt make a plate of pure gold, and engrave upon it, like the engravings of a signet: HOLY TO THE LORD.

καὶ ποιήσεις πέταλον χρυσοῦν καθαρὸν καὶ ἐκτυπώσεις ἐν αὐτῷ ἐκτύπωμα σφραγῖδος ἁγίασμα κυρίου
The high priest was to wear it when entering the holy of holies.
This is a possible understanding of the Greek, but there is another image that would come to the mind of hearers among his audience in second century Roman Asia Minor. That image is the dress of Greek priests at the time. When this fact is compared against what we know about John otherwise, which would not suggest his participation in a Greek cult, the description is seen to suit a person who held the distinction of being both a Jewish priest by birth and a Greek elder by rank.