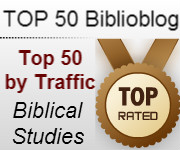 Here is the complete list. Why not add some of them to your Feedly reader?
Traffic data compiled from Alexa Rankings. Complete list of biblioblogs cribbed from the official top 50 biblioblogs site, which is, interestingly, #12 itself on this list.
Some websites have been left out, notably those on Patheos because Alexa does not have separate data on these blogs. No offense is intended to bloggers on these platforms.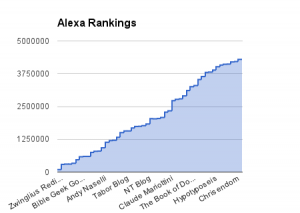 Alexa isn't really a precise tool, but it does give a ballpark estimate (as long as nobody is manipulating it). It depends on counting website impressions of people who've installed the Alexa toolbar.
The rankings don't tell the whole story. The traffic itself follows a power law curve. This means that, with every ranking increase, the increase in traffic becomes greater. It also means that a lot of blogs aren't read very widely. Although there are many power law curves that vary regarding just how steep they are, most people have heard of the power law curve in the form of the "80-20 rule" illustrated below.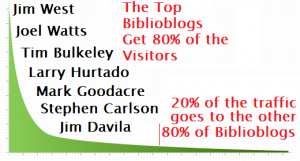 (The bloggers in the graphs above are mentioned for their accomplishments with respect and by way of illustration.)