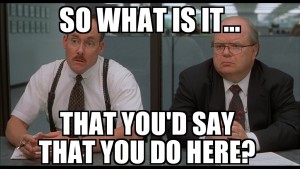 When it comes to getting a professorship of biblical studies: Quite simply, I have enormous respect for anyone who is brave enough just to dare to try, and I have (naturally) great respect for those who have succeeded in the same.
At the same time, I don't view it as a standard by which one can judge whether someone is mentally fit to have a competent opinion on the subjects of concern, any more than (to draw an analogy) being an Olympic athlete is a necessary condition of being physically fit and able to play a sport competently. In each case there is the plain truth regarding the large number of people who either do not make the cut (for whatever reason) or who self-select themselves out of the running (quite rationally).
On the rationality of avoiding the race entirely (and the possible ethical ambiguity, then, of encouraging people without much means to pursue it), one could read Peter Enns' post, are PhD programs in biblical studies ethical?
Consequently, I don't view it as a terribly important criterion for judging whether someone is worth hearing, let alone whether an opinion is worth consideration. Asking for university credentials (demonstrating an ability to analyze material at a high level of sophistication and/or facility with languages or other specific working knowledge) seems at least germane; asking for place of employment seems tantamount to a sort of social-positional snobbery rather than any attempt to get at the truth of things. Perhaps I'm biased, since I don't have anything relevant to say to either question. But I am hoping that the people reading this blog find some value to some of it, so perhaps you already agree with me, to some extent.