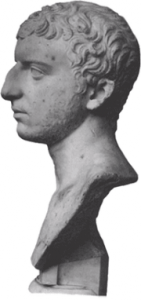 The study of the texts of Josephus, even in connection to the 'hotly contested' and famous passages found there, is not all wrangling. There is, it will be admitted, a slight amount of mystery as to whether a reference to Jesus originally formed part of the Latin table of contents (falling out of transmission here and there), or whether it came later and proliferated to most (but not all) of the Latin manuscripts. Aside from that, however, there is very little to tussle over here, with some interesting things to observe in the development of the textual witnesses, particularly in connection to the parts where John is mentioned.
This post would be completely impossible without the diligent and much-appreciated efforts of David B. Levenson and Thomas R. Martin, authors of "The Latin Translations of Josephus on Jesus, John the Baptist, and James: Critical Texts of the Latin Translation of the Antiquities and Rufinus' Translation of Eusebius' Ecclesiastical History Based on Manuscripts and Early Printed Editions" (Journal for the Study of Judaism, Volume 45 [2014], Issue 1, pages 1 – 79). Their work here is invaluable, as they have presented a critical edition of these passages (and related matter), in the Latin version, for the first time.
Disclaimer: The English translations are partly based on the Loeb edition, but any errors are my own.