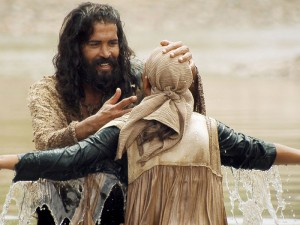 While not nearly as much ink has been spilled over the reference to John the Baptist found in Antiquities 18.116-119 (Whiston's chapter 18.5.2), when compared to the case of the Testimonium to Jesus, there is still a debate to be found in the literature over the authenticity of the reference to John the Baptist in Josephus' text. Several have ventured to postulate that the passage on John the Baptist, as well as the passage on Jesus, represents an interpolation. The arguments have not been surveyed and discussed as frequently as they should be.
One of the people to argue for interpolation in recent years has been Frank Zindler, whose reasons were summarized by Neil Godfrey. Another argument (in "Josephus' Account of John the Baptist: A Christian Interpolation?") has been made by Rivka Nir, which has been mentioned by Godfrey and McGrath. There is an older discussion in English from Israel Abrahams, referencing scholars such as Gerlach and Graetz. Robert Price considers an argument for inauthenticity, which is discussed by Maurice Casey. One of the more-detailed presentations, recently, pro-authenticity, can be found by Robert Webb. A review of arguments for authenticity (in an essay sub-titled "The Uncertain Authenticity of Josephus' Witness to John the Baptist") has been published by Clare Rothschild. There are also threads from the old Biblical Criticism & History forum from Andrew Criddle (who noted the point I made here in 2005), Toto (on Rivka Nir), ApostateAbe (on Robert Price), and PhilosopherJay (in favor of interpolation).
According to Clare Rothschild:
Unlike the study of its Christian counterparts about Jesus (A. J. 18.63-64, the so-called Testimonium Flavianum) and James (A.J. 20, 197-203), the authenticity of Josephus' excerpt about John is hardly debated. Without demur, theologians and historians alike rely on this passage for reconstructions of John's life.
Let's debate it then.