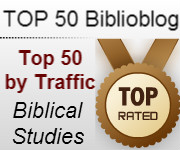 The year is coming to an end, so here is a Biblioblog Top 50.
As in the last report, the method here uses Alexa rankings whenever they are available. For some sites (i.e., Patheos and Livejournal), where Alexa doesn't have separate data on each blog, the position has been reckoned by hand.
Notice anything different? Hint: look at the new top five.
As before, please let me know if there's a blog you want to see in the results next quarter.