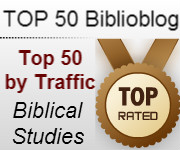 School is out and summer is in session, so it's time to find out where the blog rankings stand in mid-2014.
As in the last report (and like the one before it and the one before that), the method here uses Alexa rankings very strictly whenever they are available. For some sites (i.e., Patheos and Livejournal), where Alexa doesn't have separate data on each blog, the position has been reckoned by hand.
Check out the full list of biblioblogs, in order by rank, below. And why not keep tabs on some of the interesting blogs about the Bible while you are at it?
As before, please let me know if there's a blog you want to see in the results next quarter.