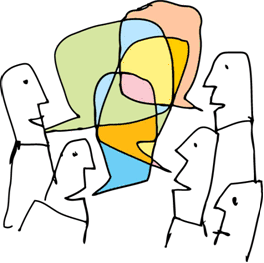 In 1999, not a single biblioblog existed. Even Paleojudaica and NT Blog, two of the first, were yet to emerge. A lot of discussion still happened on Usenet, an ancient internet protocol that most reasonable people have abandoned. Yahoo! would soon acquire a popular service for managing e-mail lists, with lists such as Crosstalk being hot stuff at the time. Web-based forums were also gaining ground at this time.
By 2004, the Bible blogs had started gaining serious steam. These steadily peeled off the most active participants from the mailing lists as they established their own blogs and worked on building them up. Companies such as WordPress and Blogger facilitated this revolution. The bandwidth on e-mail lists was still brisk, but it was soon to be on the decline. Facebook was born.
In 2014, nearly all of the e-mail lists have died off or slowed to a crawl. The "Web 2.0" revolution is now the old guard, and people are most comfortable with using the web protocol for everything. Yahoo! Groups has gone the way of Pluto: still there but not what it used to be. If Facebook is now the size of Jupiter, the blogosphere is Saturn with its rings, and Reddit is the red planet Mars. Several large web forums exist, but the Bible is only a sideshow for the big ones. A plucky little operation called the Biblical Criticism & History Forum has split off one of them, hoping to survive on its own.
Here are the top 50 discussion groups where you can talk about the Bible online…
Facebook Groups
This is the largest category today. I've arranged them by number of members.
Yahoo! Groups
These survivors have true grit. They're still active after all these years.
Subreddits
They're actually worth a look. There might be interesting things here that Feedly or the Old Reader missed.
Sections of Bigger Web Forums
Because talking about the Bible all day long is not for the faint of heart.
Stand-Alone Forums
It's tough for a forum to go Sola Scriptura, but these proud few show that it is possible.
Did I miss anything? Let me know in the comments.