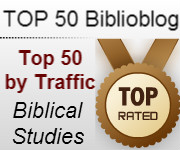 Previously I had posted the Top 50 Biblioblogs by Traffic, which used Alexa rankings and which could not rank sites hosted on some platforms (such as Patheos or LiveJournal). Soon after I followed up with the Top 225 Biblioblogs by Linkage, which sought to be more inclusive (both in the number of blogs listed and by using a method that could rank them all), but this post used a metric (number of domains linking in) that does not correlate well with the amount of traffic received recently.
So I've blended the methods: Alexa is used for rankings, and sites that can't be ranked that way are interpolated into the list using discretion and a peek at various other stats. Below is the Winter 2013 quarterly report on the top biblioblogs. Think about adding any that interest you to your regular reading.
As before, please let me know if there's a blog you want to see in the results next quarter.