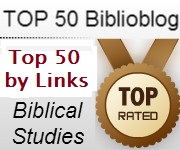 This ranking has used MajesticSEO for data on the number of domain names with links pointing in to the blog, and this allows for all blogs to be ranked with a somewhat meaningful metric. It also goes beyond the top 50. Please let me know if you want a biblioblog added to future rankings.
As you may be able to guess, the age of a blog is even more important when it comes to the number of inbound links from different domains. This is one of the facts that has substantially changed the order of top biblioblogs listed below, when compared with the previous list of the top 50 by traffic.
(The numbers on the right are the number of different domains linking in. More info below.)
With no further ado… why not add some of these to your blog reader?
Creating any list of top biblioblogs creates two issues:
What's a biblioblog, and what is not?
How do you order them?
As an example of an issue of the first type, the "Logos Talk" blog would rank number two in the list above if it were classified as a biblioblog, but it has no place at all if it isn't. This is necessarily something on which people might disagree, but I've stayed almost identically close to the classification of "biblioblogs" at the official top 50 site (with the subtraction of Logos Talk and the Bible Works blog and with the addition of Jesus Creed and a couple others being the exceptions).
In my last post, I gave an ordering by Alexa Traffic rankings. Beyond the question of the correspondence of these rankings with actual traffic of the blog (a real one, especially when dealing in small numbers), there is also the more serious problem that there is no separate data on certain blog publishing systems such as Patheos and LiveJournal, which doesn't do justice to the popular blogs there.
At the risk of using a set of data problematic in a different way, this list is a bit more inclusive than the last one. If it still doesn't include what you think should be there or if you know another good method of constructing an order, please let me know.