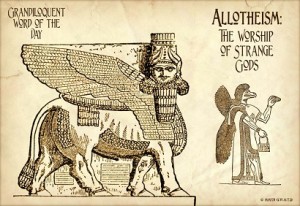 Moyer V. Hubbard puts it remarkably well:
Greek society, as the apostle Paul observed of Athens, was indeed 'very religious' (Acts 17:22 NIV). Religion was integral to community life, family life, and the private aspirations of individuals. Most civic celebrations contained overtly religious elements, as did the grand ceremonies of state. Family traditions, along with the mundane duties of daily life, were performed under the watchful eyes of the household gods, and if calamity struck the family or the city, the first order of business was to determine which of the gods had been offended and what must be done to appease him or her. Christianity entered this milieu and made some rather startling claims. In contrast to the conventional religious conceptions of the day, the followers of Jesus claimed that there was only one God, who created everything. This God cared about humanity to the point of sending his own Son in the flesh to atone for their sins. Even more preposterous, this atoning self-sacrifice took place through the shameful spectacle of crucifixion—a death reserved for slaves, criminals, and enemies of the state. The figure of Jesus was certainly an oddity in the religious smorgasbord of antiquity. Amid the plethora of divinities being worshiped in the first century, it is remarkable that anyone would dare to add a crucified Jewish peasant to this list, and even more remarkable that the primitive Jesus movement would snowball into an empire-wide phenomenon. ("Greek Religion," The World of the New Testament, p. 122)
If there is one impression that we can gather from the references to Christians in our non-Christian sources, one common theme that that runs through Tacitus, Suetonius, Pliny the Younger, Lucian, Marcus Aurelius, Galen, Celsus, and Philostratus, it is the inherent oddity they ascribe to the group. The only real exception in the literature of the era that stands out is that attributed to Mara Bar-Serapion.
Of course, the earliest Christian writers were themselves aware of this and subverted the charge, consoled the faithful, and took the question head on in reply to the calumnies leveled against them.
In Paul's epistle to the Corinthians (1 Cor 1:18-31), he address the oddity, folly, and "scandal" of the cross by taking that charge and subverting it, saying that God chose the shameful cross in order that men of this world must take on humility if they are to stand before God:
For the word of the cross is folly to those who are perishing, but to us who are being saved it is the power of God. For it is written,

"I will destroy the wisdom of the wise,
and the discernment of the discerning I will thwart."

Where is the one who is wise? Where is the scribe? Where is the debater of this age? Has not God made foolish the wisdom of the world? For since, in the wisdom of God, the world did not know God through wisdom, it pleased God through the folly of what we preach to save those who believe. For Jews demand signs and Greeks seek wisdom, but we preach Christ crucified, a stumbling block to Jews and folly to Gentiles,but to those who are called, both Jews and Greeks, Christ the power of God and the wisdom of God. For the foolishness of God is wiser than men, and the weakness of God is stronger than men.

For consider your calling, brothers: not many of you were wise according to worldly standards, not many were powerful, not many were of noble birth. But God chose what is foolish in the world to shame the wise; God chose what is weak in the world to shame the strong; God chose what is low and despised in the world, even things that are not, to bring to nothing things that are, so that no human being might boast in the presence of God. And because of him you are in Christ Jesus, who became to us wisdom from God, righteousness and sanctification and redemption, so that, as it is written, "Let the one who boasts, boast in the Lord."
The author of 1 Peter addresses how Christians are to behave when maligned (1 Peter 2:23, 3:8-9, 3:13-16):
When he was reviled, he did not revile in return; when he suffered, he did not threaten, but continued entrusting himself to him who judges justly. … Finally, all of you, be like-minded, be sympathetic, love one another, be compassionate and humble. Do not repay evil with evil or insult with insult. On the contrary, repay evil with blessing, because to this you were called so that you may inherit a blessing. …

Who is going to harm you if you are eager to do good? But even if you should suffer for what is right, you are blessed. Do not fear their threats; do not be frightened. But in your hearts revere Christ as Lord. Always be prepared to give an answer to everyone who asks you to give the reason for the hope that you have. But do this with gentleness and respect, keeping a clear conscience, so that those who speak maliciously against your good behavior in Christ may be ashamed of their slander.
Tatian, in his Address to the Greeks, argues that their stories are not in fact so strange:
We do not act as fools, O Greeks, nor utter idle tales, when we announce that God was born in the form of a man. I call on you who reproach us to compare your mythical accounts with our narrations. Athene, as they say, took the form of Deiphobus for the sake of Hector, and the unshorn Phoebus for the sake of Admetus fed the trailing-footed oxen, and the spouse of Zeus came as an old woman to Semele. But, while you treat seriously such things, how can you deride us? Your Asclepios died, and he who ravished fifty virgins in one night at Thespiae lost his life by delivering himself to the devouring flame.

Prometheus, fastened to Caucasus, suffered punishment for his good deeds to men. According to you, Zeus is envious, and hides the dream from men, wishing their destruction. Wherefore, looking at your own memorials, vouchsafe us your approval, though it were only as dealing in legends similar to your own. We, however, do not deal in folly, but your legends are only idle tales.
Part of why Christians were viewed with such hostility, however, even more so than the Jews were, is that Christianity was so very recent in origin. There was something suspicious about rejecting entirely the imperial cult and the gods of your neighbors. This went double because the Christians had no claim to ancestral antiquity but rather had recent origins and recruited across ethnic divisions.