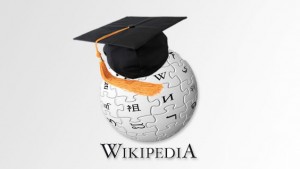 Not just another Wikipedia rant: it's worth thinking a little about what what makes the world's largest encyclopedia tick, what's different about academically-oriented writing, what the relative strengths of the two are, and why it matters.
In the words of Dr. House, "everybody lies." When it comes to research, everybody has a bias.
Like the bacteria living in your stomach, some of them are the kind that are benign. These dispositions actually motivate you to digest information thoroughly, exercise critical thinking, and build a product of research that represents the subject matter faithfully and reflects on it intelligently. Others are less helpful and are the kind to consider as possible sources of error.
(1) Lazy Writing
The editing culture of Wikipedia is, by the standards of any other writing project, extremely conservative about preserving everything that has been edited into an article, short of actual vandalism. Sure, the top-level articles might eventually receive the kind of love and care (and intense behind-the-scenes wrangling) that is required to create a balanced, thorough piece representative of the subject. Most will never be anything more than glorified modern-day florilegia, growing like topsy out of an essay some high school student submitted until the original sense is destroyed and the article thoroughly pleases nobody with its breadth and emphasis. Editors have learned not to throw things away when they can just slap "citation needed" here or "neutrality" there and hope the universe takes care of it. Contributors have learned that drastic revisions are rarely appreciated and will (in any case) just end up repeating the cycle until the article is, once again, an incoherent mutt representing everything anyone ever wanted to make a point about, ever.
Contrasting academic bias: The writer usually has absolute control over the product, the choice of topics, and evidence mentioned. Peer review provides a check but not before pride of authorship will usually tend to make a writer paranoid about forgetting to read any journal article or monograph ever written about the subject that might be worth mentioning. A single writer or small group almost always does a better job of giving the subject a coherent outline.
(2) Non-Peer Review
In what can only be called "non-peer" review, every article on Wikipedia does receive scrutiny by regular editors against the mischievous vandals and trolls that assault the encyclopedia constantly. These are the people who, more often than not, decide the canonical shape and content of an article. They operate on heuristics, limited information, and a sense of entitlement that develops from their perspective that they truly are the most objective person in any room, constantly battling the forces of darkness that all seem to claim that they have better access to the truth through more intense study (as if that helped them keep a neutral point of view!). They also tend to be the ones better-integrated with the culture and bureaucracy of Wikipedia editing and who know how to win an edit war if necessary.
Contrasting academic bias: Leaving aside the subject of credentials, outside the world of Wikipedia, it tends to be recognized that it's not too hard to find a person who's actually studied a subject to get the last word in.
(3) Low-Hanging Fruit
Wikipedia has a policy about citing sources. In theory, this means anything. In practice, more often than not, it means sources that are readily accessible online. This might be fine for some subjects, such as basic math or pop culture, where there is more than enough material online. In a subject such as history where anyone with personal experience all too frequently knows the inconvenience of the paywall and/or the paperwall, any presentation that is restricted mostly to readily-available online sources can turn into a little echo chamber that simply repeats the inherited biases of other presentations already on the web.
Contrasting academic bias: Participating in academia means being able to get through the paywall and paperwall, usually with the aid of institutional resources (the library). If anything, however, this is just another argument for increasing the amount of open access research that might then find its way to tertiary sources, including Wikipedia.
(4) Culture Clash
Contributing to Wikipedia is rarely rewarded with the common currency of academia, getting recognition for your ideas. Also, the better a contribution to Wikipedia is, the more likely that all subsequent edits will be downhill from there, so there isn't even a strong sense of being able to improve the encyclopedia with better content on the part of highly-qualified contributors. The project is run primarily by and for enthusiasts. When the community of enthusiasts is large enough and capable enough on their own, great things can happen. For something more obscure, like Coptic, anything (or, more likely, nothing of note) can happen.
Contrasting academic bias: There is a level of toleration for the lay contributor, but in general the university-affiliated folks set the agenda. The good thing about academic training, of course, is that there is actually training involved in subjects that are difficult for the autodidact.
(5) Errors Can Get Fixed
But, in a soft science especially, there are two kinds of really bad hypotheses: the kind that is glaringly bad and really easy to prove as such and then the kind that is glaringly bad and isn't. There's no process for getting any kind of consensus about the latter. Anything that isn't a howling error will mutate again and again so that it can always persist in some form, even if just as a point of view from Mr. Some Say. This is just a consequence of the lazy, conservative writing process that never wants to throw anything away.
Contrasting academic bias: Errors remain the author's own. Publishers and peers willing to help find errors in a manuscript are worth their weight in gold. On the other hand, the writer is responsible for all opinions presented and so is less likely to footnote that some people think aliens built the pyramids.
(6) Ye Olde Ideological Bias
Wikipedia is the sum of its contributions, and each one of its contributors brings a point of view to the table. When the community around a subject also tends to advocate a particular conclusion, it is inevitable for the articles to reflect that. Sometimes the popular opinion can be unreservedly more bold than the evidence allows. Consider, for example, the community of people around "vaping" that will emphasize its safety instead of the need for long-term studies before that conclusion can be reached.
Contrasting academic bias: There is quite a bit more self-awareness about the potential pitfalls of ideological bias in the best of academic writing. In general, however, the same mistakes can sometimes be made.
(7) No Original Research
This is pretty reasonable, given the attempt to represent a summary of secondary sources in encyclopedic form. It does, however, mean that writers are constrained not to present any information not documented in another secondary source. (There is also a criterion of being "noteworthy" for the encyclopedic purpose, which is applied somewhat arbitrarily but which does not, in any case, constrain academic writing.)
Contrasting academic bias: Original research (even on obscure topics), please. The top tier journals, of course, do apply criteria of significance to sift through submissions.
Conclusion
If you write academically, you already know not to cite Wikipedia. The quick and severe reprisals will prevent even any hold-out fans of the project from doing so. Still, some do take the guilty pleasure of reading it from time to time, perhaps just as a way to find ideas and references. Hopefully this little essay helps you further hone your own trusty bias-cutting machete as you navigate through the jungles of the wiki.