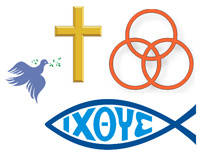 Which texts refer to Catholic or Gnostics, to Christians or to Nazarenes? Which texts mention the Gospel, Knowledge, or Belief? Where do we find Synagogues and Churches mentioned? Discussion of the way, of the spiritual, or of the kingdom? Who refers to insiders as brothers, holy ones, or chosen?
Earlier I produced A Table of Christological Titles in Early Christian Writings. This table concerns the kind of references found in these texts to refer to insiders and their distinguishing characteristics. Sometimes I've had to note substantial differences in the reference such as, for example, when a term is mentioned in a negative context. Several of the entries involve a layer of interpretation instead of a simple word search, so please compare always against the original texts for an exact sense of what this table is supposed to represent.
The New Testament results were obtained with a search on the Greek lemma in the Bibleworks program. The other results came from a search for the English equivalent or synonyms in English translation. One desideratum, of course, is to found all the results on an original language footing. I may be able to do this when I revisit particular columns for closer examination.
As before, I welcome corrections of my errors quite eagerly, as I know there are mistakes in the table.
The order presented here is descending by the number of terms, with alphabetization of the title as a tiebreaker. It has been necessary to split the table into two parts to fit into this blog.
Here is the second part of the table.
I am releasing this first draft now, despite its flaws, for anyone who finds it useful.
I have yet another table in production that will bring together references to leadership roles.