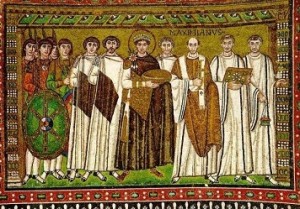 There is a long history of looking back to the New Testament and other writings of the era for information on leadership positions and their titles. The Reformation took this study up in earnest when attempting to discover the proper hierarchy for the contemporary church. The results have been various. Variety is indeed what comes through in the sources. This table of leadership roles (more properly, of the terms given to them) in the early Christian writings has been compiled in an attempt to capture a sense of this variety.
I have already released A Table of Christological Titles and also A Table of Self-Identifications. These looked at some ways of referring to Jesus, some ways in which early Christian writers distinguished their group from other people, and where these are attested.
This table has a similar purpose. It is a way into the sources. It is also a way to organize a study of the sources so that the student can trace the development of an idea or relate it to other ideas also found in the same texts. Because of the layer of interpretation that takes place in making a table like this one, as well as the possibility of error, I encourage reference back to the sources if there is any question of how a particular entry in the table relates to the texts themselves.
This table and the previous one have each had over 1000 entries (spreadsheet cells), making the possibility of error all but certain at this point. Like the previous table, I have founded the New Testament results on a search of the BibleWorks software by lemma, but I have had to be satisfied with a search of English translations for the other texts pending further study, which might fix this obvious problem. I have also had to split this table into two to fit into the blog. You can download the spreadsheet from Google Docs if you want to work with the data in that form.
This is the second part of the table.
I hope this is useful to anyone studying the different ways of referring to leaders in early Christianity.